My first Time Travel expedition commenced in Venice, a destination that has always occupied a haunting and romantic space in human history. 
In its golden age, Venice was a dazzling jewel of the Adriatic Sea, a marvel of human ingenuity and architectural grandeur. The city was a thriving hub of commerce, art, and culture, renowned for its magnificent palaces, intricate canals, and exquisite craftsmanship. The Grand Canal was alive with ornate gondolas ferrying noble families, traders, and visitors, while the bustling Rialto Market provided exotic goods from faraway lands.
St. Mark's Basilica shimmered with intricate mosaics and gold leaf, casting a soft glow on the elegant Piazza San Marco. In the luxurious halls of the Doge's Palace, political intrigue and power plays unfolded, while the Opera Houses resonated with the finest compositions of Vivaldi and Monteverdi. Masked balls, regattas, and carnivals celebrated life, love, and creativity, attracting artists, poets, and thinkers. Venice was more than a city; it was a living masterpiece, an intricate dance of humanity's ambition, elegance, and passion. A city where the impossible became real and dreams were etched in stone, glass, and water.
Upon arrival in October of the year 2068, the evening was settling in, and I found myself by the Grand Canal near the Basilica di Santa Maria della Salute, a place once bustling with gondoliers and tourists but now almost unrecognizable. Once, a Ponte dell'Accademia bridge spanned the Grand Canal here, providing passage for dreamers and lovers, but reality, as expected, had distorted and degraded the image in my mind. The canal was now abandoned, littered with garbage floating aimlessly. The place where gondoliers once called out to clients and tourists snapped photographs of the cathedral from the bridge was now nothing but ruins. The skeletal remains of metallic and wooden structures lay scattered, making the crossing to the other shore a daunting task.
The climate had undergone a transformation as well. It was tropical, and the air was dense and difficult to breathe. The foul odours emanating from the stagnating canals forced me to use a respirator to breathe clean air. Venice seems like a drowned figure in an elegant suit. It piques curiosity from a distance but with no desire to touch it.
As evening turned to twilight, I began to walk around the cathedral's ruins, looking for a place to stay the night. Most buildings were destroyed, roofs had caved in, and the rising water level had flooded the first floors. The grandeur of the cathedral was daunting, and it seemed unwise to venture inside; who knew how stable the stone ceilings might be? Instead, I decided to find shelter in one of the nearby galleries, and with the morning sun, I would start exploring the local surroundings.
The night was filled with strange sounds and the distant whispers of a world that had once been. Memories seemed trapped within the very walls, crying out in silence about the beauty and tragedy of a time long gone.
A New Dawn
Morning arrived, and with it, a sense of purpose. The day was mine to explore and learn from the scars left behind by human civilization. The streets were a labyrinth of despair and nostalgia. Every corner seemed to tell a story, every ruined building a testament to human ambition and folly. The majestic art that once adorned the city now lay hidden behind decay, like secret messages waiting to be discovered.
The city was not entirely lifeless, however. Nature had begun to reclaim its territory, and in the cracks and crevices, life bloomed in unexpected ways. Plants wound their way through broken windows, and birds nested in places where laughter and music once resonated.
As I wandered, I stumbled upon remnants of personal lives: a faded photograph, a broken piece of jewellery, a diary filled with dreams. These artefacts were not merely objects but links to understanding a time that had slipped away.
Despite the devastation, Venice still held a charm, a melancholic beauty that tugged at the soul. It was a place of contrasts, where elegance met decay, where dreams met reality.
Nature's Reclamation
In the following days, I continued to explore, documenting my findings, and absorbing the lessons etched in every stone and every abandoned street. 
The landscape changed as I ventured deeper into Venice. Narrow galleries allowed the sunlight to penetrate through shattered windows, revealing more and more greenery that was gradually reclaiming the city. Unknown to me, red flowers occupied almost all the space within the buildings, flourishing in a place where art and culture once thrived.
Wading through shallow waters overgrown with tropical plants, I traversed numerous corridors and inner chambers. Surprisingly, in the San Marco district, I found furniture almost intact in one of the museums facing the square. It was a momentary respite, a place to catch my breath before moving on.
Everywhere, heaps of garbage and destruction littered the city. Pieces of metal, wood, and stone were mixed like ingredients in a chaotic soup. The city was suffocating, with a climate that was almost unbearably tropical with nearly 100% humidity. Yet, it was an ideal environment for various tropical plants that actively colonized the territory.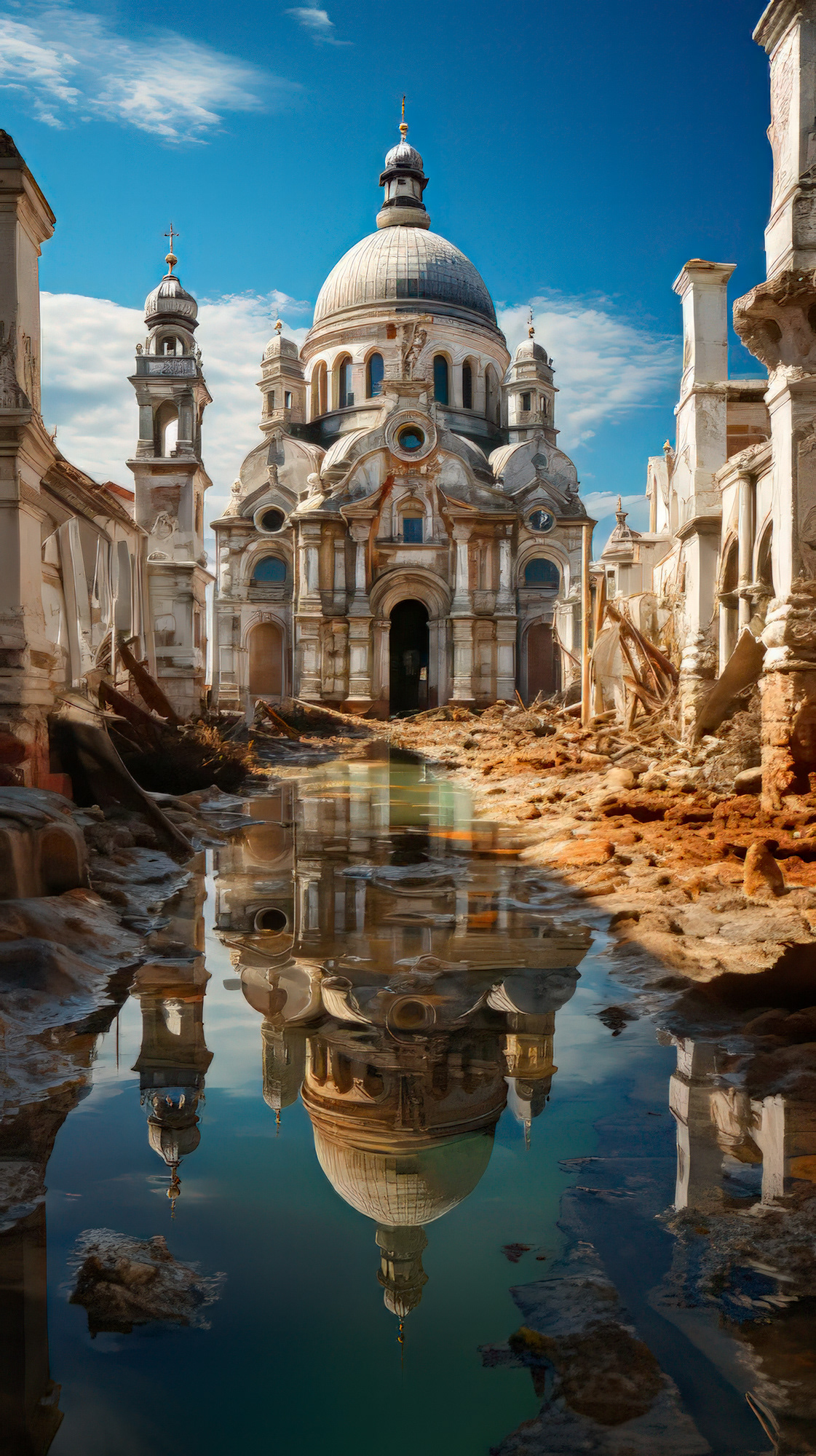 Islands of Color
On the following day, I decided to explore the neighbouring islands known for their colourful houses: Murano and Burano. Here, there was somehow more space but no less debris. If one didn't look down at the littered ground, there was even a feeling that people had just recently abandoned these places. Dark, empty windows stared like hollow eye sockets, and the streets were strewn with filth and broken gondolas that now floated on the trash-choked canals.
To my surprise, the paint had remained resilient over the years, retaining the once-alluring multicoloured charm that had enticed tourists. Even amid decay, the islands still preserved their vibrant allure.
Despite the devastation, Venice still held a charm, a melancholic beauty that tugged at the soul. It was a place of contrasts, where elegance met decay, where dreams met reality. Strolling through the shadowed alleys, I could almost hear the echoes of laughter and music that once filled the air, the delicate harmonies replaced now by the forlorn cries of distant birds.
The memories of Venice were like fragile glass sculptures from Murano, once brilliant and full of life, now shattered and dulled by the sands of time. The city itself felt like a beautiful painting left out in the rain, its vibrant colours bleeding into one another, creating an abstract sadness that resonated within my very core.
One day, in a room that had perhaps once been a library or a study, I stumbled upon a collection of love letters, preserved in a sealed box. They were penned by a lover long gone, filled with passion, longing, and an aching tenderness that transcended time.
As I read, I felt a connection to the author, a shared humanity that bridged the gap between our worlds. The letters were like fragile flowers pressed between the pages of history, their fragrance still lingering, a testament to love's endurance.
Venice, in its golden age, was a city of love, where every bridge and canal was a stage for romance. Now, these letters were the last whispers of that era, a poignant reminder of what once was.
​​​​​​​
The Garden of Forgotten Dreams
In my exploration, I discovered a hidden garden, overgrown and wild, yet retaining a mystical beauty. It was as if nature itself had composed a poem, using flora as its verses. Here, time seemed to stand still, and I could almost see the elegant gatherings and dances that had once taken place under the starlit sky. The garden was a mirror to my own soul, reflecting both the wild chaos of emotions and the underlying order that shaped them. It was a place where forgotten dreams took root, waiting for the right moment to bloom once more.
Venturing into the San Marco Square, the silence was overwhelming. The grand buildings that had once witnessed the vibrant symphony of life now stood as sombre monuments to a bygone era. The square, once filled with the music of orchestras, the chatter of tourists, and the gentle splashing of fountains, was now a silent stage where the ghostly waltz of history played on.
It was a haunting melody composed of broken statues, shattered mosaics, and the distant cries of the sea. A melody that sang of human fragility and the inexorable march of time.
As my time in Venice drew to a close, I stood by the edge of the Grand Canal, reflecting on the journey. The city, with all its decayed grandeur, had taught me lessons that no book or lecture ever could. Venice was like an old, wise poet, its verses etched in stone and water, its metaphors woven through the tapestry of decay and rebirth. It spoke of love and loss, of dreams and despair.